VORGFANG – skammens stein – DIGICD
€12.00
Raw Black Metal from Norway
In stock
---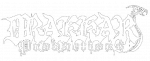 Glorious and raw Black Metal from Norway, VORGFANG is a formation deeply rooted in the '90s Scandinavian sound. It's creator, GGATZSHRIIEGK, first released VORGFANG's debut album "Skammens Stein" in vinyl with Altare productions, then in cassette tape with Vonindod Creations in early 2022. It was time for Drakkar to honor this production with a very limited CD Digipack version (200 copies only!)
If you're a fan of old school black metal formations from Norway like DARKTHRONE or BEASTCRAFT, then you should definitely check VORGFANG !
Only logged in customers who have purchased this product may leave a review.