ØKSEHOVUD – makt, høyhet, herredømme – DIGICD
€12.00
Raw Black Metal From Norway
In stock
---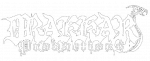 Coming straight from the frostbitten lands of Norway, ØKSEHOVUD is a mysterious raw black metal project created by BEORHTAN (Sarvsfos, Fåvnesbane…) and was first revealed in 2021 with "makt, høyhet, herredømme", then next to CRUCIFIXION BELL on the split "Benighted in the Luminous Glow of Sin" released a few months later.
"makt, høyhet, herredømme" ("power, highness, dominion") is a perfect example of raw/lo-fi Black metal, mixing catchy riffs and atmospheric guitar leads, vicious and chilling vocals, haunting blast beats and drum patterns.
If you're a fan of the classic 1990s-era of Norwegian black metal bands like DARKTHRONE or ILDJARN, then you should fully Appreciate ØKSEHOVUD!
Now available in a 2 part digipack format with a picture printed CD.
Only logged in customers who have purchased this product may leave a review.