IMAGO MORTIS / MORTIFERA – ostenoir – DIGICD
€12.00
IMAGO MORTIS / MORTIFERA "Ostenoir" Split EP
In stock
---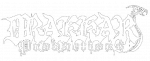 Italy and France join forces in this new occult Split EP soberly titled "OSTENOIR":Imago Mortis offer us here a brand new re-recorded version of the title 'Mors Triumphalis', and a new title inspired by the popular Italian song 'Donna Lombarda'. Mortifera on their side offer us 3 new dark and melancholic unreleased tracks, including an instrumental.
Comes in a 3 panels digipak with a 4 pages booklet and a picture printed CD. Limited edition of 200 copies, 2022 Drakkar Productions release
Only logged in customers who have purchased this product may leave a review.