VULTURINE – cântico gangrenoso – SLIPCASE CD
€12.00
Black Metal from Brazil. Drakkar Productions South American Division release
In stock
VULTURINE - cântico gangrenoso - SLIPCASE CD

Delivery & Return

Delivery time

At reception of payment, we need an extra 24h-48h delay to process your order. Packages should get to you within 1 week for Europe, 2 weeks for the rest of the World. If not, please check your local post office as sometimes your postman "forgets" to leave you a notice that your package is on hold!
---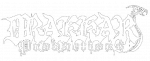 DIRECTLY FROM DRAKKAR BRAZIL ! New album by VULTVRINE : An ode to underground and anti status quo Black Metal, with excellent production and mature compositions, dissonant and complex harmonies, flirting with the avant-garde and industrial. Mandatory item and limited to only 300 copies! 2022 Drakkar Productions South American Division release
Only logged in customers who have purchased this product may leave a review.