TATTVA – abysmes – DIGIMCD
€10.00
Black metal from France.
Comes in a 6 panels digipack with a 4 pages booklet including lyrics, and a picture printed CD.
Limited edition to 200 copies
In stock
---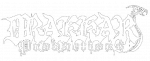 One year after its successful album "Naraka", TATTVA, Black Metal entity from France, returns.
First stone of a new trilogy, "Abysmes" ("Abyss" in old french) sails on the waves of psychic and psychological perdition.
Throughout the 3 titles of this EP, TATTVA highlights the writings of Louise Ackermann (a french poet from the 19th century) in a powerful yet melodic black metal inspired by the french scene (Hyrgal, Oes Galliath, Seth, Hostile, Glaciation….)
This CD edition also contains an exclusive track, a cover version of "Buddha 1" by Cult of Fire.
Comes in a 6 panels digipack with a 4 pages booklet including lyrics, and a picture printed CD.
2023 Drakkar Productions release, limited to 200 copies.
Only logged in customers who have purchased this product may leave a review.