SHITANGEL – shithead metal – TAPE
€10.00
In stock
---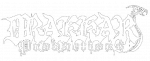 Those with a penchant for some decidedly raw and blasphemous black/death/thrash, will do well to check out this new album from Vermont-based maniacs, SHITANGEL. Their music evokes an evil aura in the vein of bands like Sarcofago, Necrovore, Blasphemy, Parabellum, etc., supplemented with a cavernous production complimentary to the style.
"Shithead Metal" offers10 tracks of pure hellish metal of death made for maniacs pure, so If you're a dork for clean sounding metal, then don't fucking bother!!!
Only logged in customers who have purchased this product may leave a review.