MONDOCANE – enigmata – DIGIMCD
€10.00
Only 171 item(s) left in stock.
---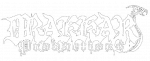 First Drakkar Productions release of 2023, MONDOCANE, Mauling black metal entity created by Gorm from Stockholm (Sweden), releases here its newest EP containing 3 exclusive tracks + 3 bonus tracks taken from unreleased material by GOATWORSHIP, Gorm's former project.
Comes in a 2 panels Digisleeve format with a picture printed CD.
2023 Drakkar Productions release
Only logged in customers who have purchased this product may leave a review.