KYY – apotheosis : the light of all lights – CD
€10.00
Satanic Black Metal from Finland
In stock
---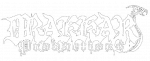 Ad Majorem Sathanas Gloriam ! Drakkar productions is proud to present KYY, a black metal band from Lahti, Finland.
Their sophomore album "Apotheosis : The Light Of All Lights" celebrates the band's 10 years of existence by delivering haunting melodies of pure satanic hatred.
Taking influences from bands like IMPALED NAZARENE or ABSU, KYY manages to create their unique style of music and haunting atmospheres, with tracks like "Festering Wounds" or "Drakon Pankreator" .
with "Apotheosis : The Light Of All Lights", KYY has definitely taken one step up into the Finnish Black Metal scene.
Comes in a standard Black CD case with an 8 pages booklet and a picture printed CD
2023 Drakkar Productions release
Only logged in customers who have purchased this product may leave a review.