"A squadron of Stuka dive-bombers soaring in on wings of steel to deliver lethal blasts of blitzkrieg black metal riffing." GESTAPO 666's new album is out!!
CD jewel case format, including an 8 pages booklet. Limited edition to 500 copies, 2022 Drakkar Productions release.
Label
Drakkar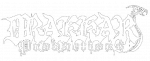 Only logged in customers who have purchased this product may leave a review.