EMPTY – omnia amet lorem – DIGICD
€12.00
Black metal from Spain. 2022 Drakkar Productions release
In stock
---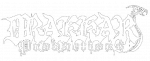 Spanish Black Metal horde Empty is back ! Formed in 1995 and after several line-up changes and a negative legacy of fateful hymns, EMPTY remains as one of the most long standing bands in Spain.
The band has toured over Europe and played with bands such as Immortal, Secrets of the moon, Watain, Necrophobic, Infinity,Horna, Archgoat,Inferno,Ixxi…
"Omnia Amet Lorem" is an ode to negative & pessimistic Black Metal, and contains 7 deadly tracks of dark & ominous music, sublimated by lugubrious vocals of lead singer Drizzt.
Comes in a 4 panels Digipack format with a 16 pages booklet and a picture printed CD. 2022 Drakkar Productions release
Digital available here : https://vikingdigital.bandcamp.com/album/omnia-amet-lorem
Only logged in customers who have purchased this product may leave a review.