ECLIPSUS – sullen . euphoria – DIGICD
€12.00
Atmospheric/Depressive Black Metal from Virginia, USA
In stock
---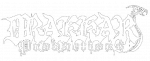 The USBM project ECLIPSUS was founded by solo member Coughin Wraught (Noctilucent, Serpentshrine) in 2018.
As as step away from his other raw black metal projects, ECLIPSUS is a medium for more emotional extraction and self-reflection: The debut album "Yurei" followed the steps of entropy through an individual's path to suicide in the japanese forest of Aokigahara.
This second opus "Sullen . Euphoria" follows this path traced by Coughin Wraught: his music can be seen as an introspection, a deep inner journey carried away by a rumbling, melancholic, sometimes violent swell, which closes in on itself again and again…
its majestic guitar leads, carried by a distant and gaunt voice, will immerse you in a soaring, strange but unique and beautiful atmosphere.
For fans of NOCTURNAL DEPRESSION, TOTAL SELF HATRED, FORGOTTEN TOMB…
Comes in a 2 part Digipack with a picture printed CD . 2023 Drakkar Productions release
Only logged in customers who have purchased this product may leave a review.