DOLCHSTOSS – war is eternal – DIGICD
€12.00
War black metal from Belgium. DigiCD
In stock
---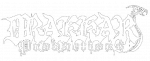 DOLCHSTOSS finally releases its new weapon to WW1 : "War is Eternal" is a compendium of pure brutality that pours a heavy fire of blast beats and brutal guitar riffs, enhanced by hateful and heinous vocals! Bombs fall relentlessly on this black metal battlefield for over 40 minutes of pure violence. Grab your bayonet and join DOLCHSTOSS in its war effort!
Comes in a 6 panels Digipak format with an 12 pages booklet and a picture printed CD. 2022 Drakkar Productions release
Digital version available on https://dolchstoss.bandcamp.com/
Only logged in customers who have purchased this product may leave a review.