BURIALKULT – infernal death manifest – LP
€20.00
Old School black metal from Canada
Only 200 item(s) left in stock.
---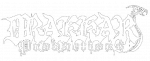 Almost 10 years after their latest release, BURIALKULT, Canadian black metal formation from Victoria (Canada) is back with a new offering called "Infernal Death Manifest" ! A devastating hurricane of old school black metal enhanced with thrashy riffs and relentless drums, all sublimated by the hateful vocal howls of lead singer Phlegathon. Definitely a perfect addition to the discography of any fan of old-fashioned underground black metal hatefulness!
Comes in a standard 3mm cardboard jacket with a 16 pages A5 booklet containing lyrics & band photos. 2023 Drakkar Productions release
Only logged in customers who have purchased this product may leave a review.