NEWS
8.15.2011
Drakkar Productions has repressed some older shirts and GBK has some Goat of a Thousand Young shirts with the old logo available. Send cash to PO BOX to order. Expect a delay when ordering as if you were ordering shirts in 1992.
Drakkar Productions will be repressing some albums on vinyl in the coming months, some picture discs, and other special items.
The Shitagogue Records is working to release the GBK demos on CD release within the next couple of months. Delays can be attributed to Acts of God.
$$$
The cassette version of KOSHERAT floating around on ebay is a %100 bootleg. Some claim it's a bootleg from Malaysia as songs are spelled incorrectly and band photos don't match their names.

The GBK embroidered patch floating around on ebay is also a %100 bootleg from Jimmy 'the incan jew' Ruiz.

Don't support. Don't buy. Don't sell.
$$$
GBK is considering adjusting prices to accommodate
kikes (who download and rip music for free) claiming they're too expensive...

"So angry for a bunch of jewlovers, still mad about the Holocaust? Maybe if you'd set some realistic prices on your music and then not fuck people over with the shipping, it might sell a little better."
"The only reason I was going to buy your music was to update the shitty rips I've downloaded. I was going to re rip them and provide everyone with some GOOD digital copies of your music."
"I could probably get all 4 of your CDs through distros and ebay. Your move, jewbag."
WELTENFEIND released on GATEFOLD/BOX SET
W.T.C. Productions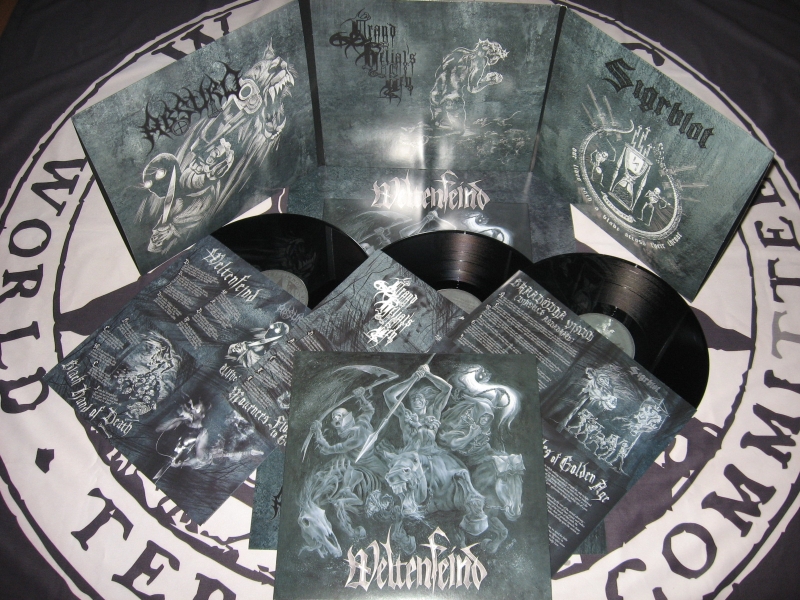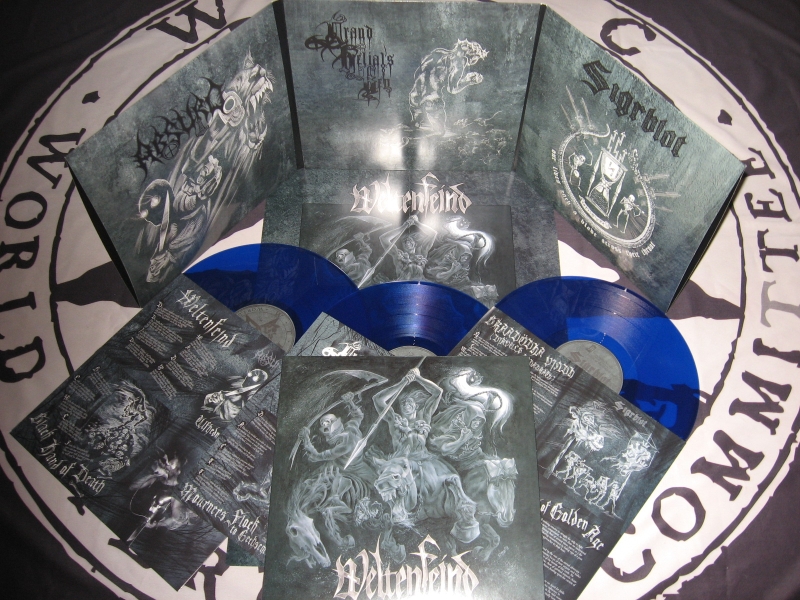 Absurd / Grand Belial's Key / Sigrblot - Weltenfeind 3 x 12" Gatefold LP

- Special triple Gatefold Cover
- printed inner sleeves
- 3 x 12" LPs, so every Band has its own LP
- A2 Weltenfeind Poster
- 600 copies (300 black vinyl / 300 blue vinyl)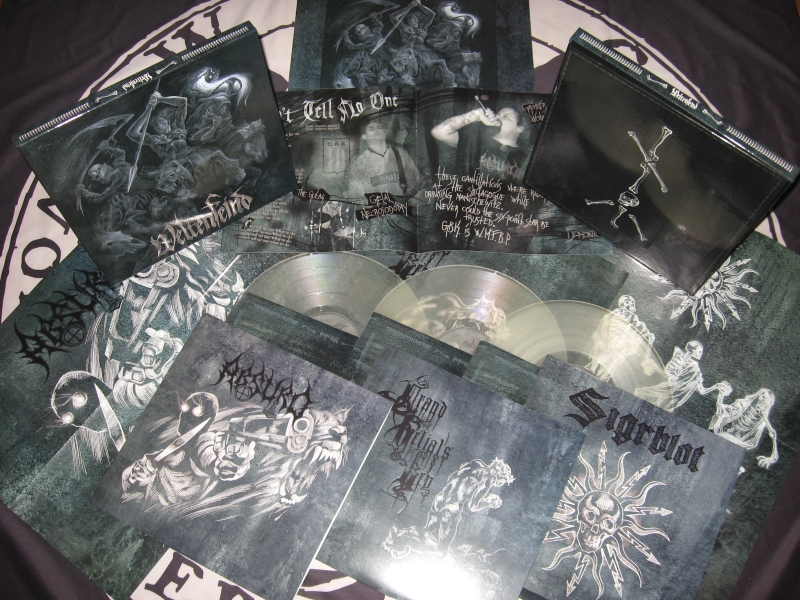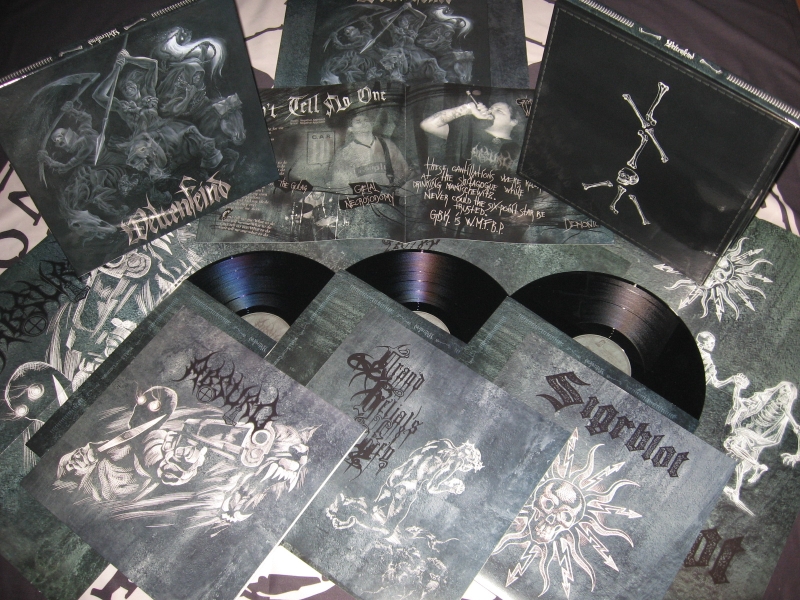 Absurd / Grand Belial's Key / Sigrblot - Weltenfeind BOX

- The bloody Box itself,obviously
- LP sized booklet (20 pages)
- 3 x 12" LPs, inkl. LP sleeves with Embossed Logo's, each LP has an A2 Poster
- Printed inner sleeves
- 180 gr. Vinyl (150 x clear vinyl / 150 x black vinyl)
- A2 Weltenfeind Poster
CD 'GOAT OF A THOUSAND YOUNG/TRIUMPH OF THE HORDES'
demos on CD 2011 on THE SHITAGOGUE RECORDS
– Re-mastered by FINAL STAND MASTERING
– Includes alternate and original 4-track versions
– Includes live songs from the early days
NOT AVAILABLE YET
NFORMATION FOR LABELS:
– Wholesale now available. Write for conditions/quantities/prices.
CD 'WELTENFEIND' 3 way split
ABSURD (Germany) - GRAND BELIAL'S KEY (USA) - SIGRBLOT (Sweden)
NFORMATION ABOUT CD:
– Official release date was on August 10, 2008 (the saddest day on the Jewish calendar - Tisha B'Av)
– GBK's music was recorded during the KOSHERAT recording session (same sound, gear, studio) and was exclusively planned for this split 4 years ago
– ABSURD's music is exclusive to this release
– SIGRBLOT's music is exclusive to this release and first release since their debut album
– Booklet is 20 pages and is peppered with the great work of the Russian Njard
– CD length is 68:41 minutes and was mastered by BOB/ FINAL STAND
– W.T.C. (Germany) will release an impressive vinyl version of this release in 2009

CONDITIONS:
– No unfair trades are accepted (don't try to unload your shitty CD's on us, we don't have a label nor a distribution service)
– Don't be a jew and post online the music YOU paid for so that OTHERS can listen at your expense and ours (Studio costs, mastering costs, costs of graphic design and hours of artwork, cost of patches, stickers, pins, etc.) You're not helping anyone out, on the contrary, you appear as a wanker looking for attention
– Don't expect next day service/delivery, this isn't Amazon.com or a professional mail-order
– Don't bitch an moan like black 'glam rock' metal divas about anything above in "funderground" forums or gay blogs

ORDERING:
– Send $12 well-hidden or blank money order to P.O. Box
– If you're so inclined to pay by paypal and don't remember the traditional way of sending cash by mail, a local label's account may be available
– Yes, we have kept track of who orders which copy to figure out who bought this limited edition CD solely for the purpose of reselling it